The stands for the Temporary switchboard
Aluminum stands OKAL900 for the Temporary switchboard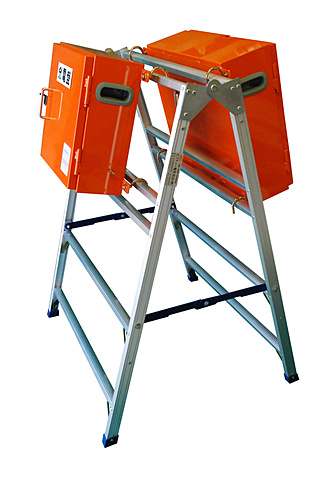 It is the Temporary switchboard stand made of lightweight aluminum alloy which met needs of the temporary electric construction centering on safety and functionality.


[characteristic]
●It is made of aluminum alloy and is lightweight. The durability became higher by domestic production still more.
●Installation of the switchboard is the ceremony of frontal pull-out with the all-around hook bolt.
●The one-touch which is easy to do setting, storing is foldable, and transportation is very convenient.
●The Temporary switchboard stands with movable caster have the handling.
●I prepare a sample. Lightness, the durability, the convenience of the product before the use for a right or wrong hand
Please try it!
※Please consult about a rental period or an area. TEL 045-833-8221 (weekdays 09-17:00)  
Only the postage asks a customer for a burden.
●All-around hook bolt (W3) four attachment

| | | | | |
| --- | --- | --- | --- | --- |
|   | Overall width | Overall height | Self-respect | Load-resistant |
| BMAL900 | 900mm | 1287mm | Approximately 8.5 kg | 70 kg |
Aluminum stands product introduction for the Temporary switchboard
You can confirm use, the setting method of the aluminum stands for the Temporary switchboard with a video. I can perform setting, movement, removal work of the on-site Temporary switchboard at light weight alone. The examination look at utilization by all means. ※The product of the video is an older model.
OKAL900 catalogue