Three alette carries for the refuge refuge
Three alette carries for the refuge refuge
Process of the development
When, from the strong request of the nursery school of the stricken area, I cannot use strollers
I develop the refuge aid which finds three children with one nursery staff well, and can shelter.
To be able to easily attach anyone by the best type of the flame-proof material, and to be easy to be able to see a foot at the time of refuge
A style to support a child at a back and both sides. With storage bag for the wall hook to be able to take out at the time of a disaster immediately.
Characteristic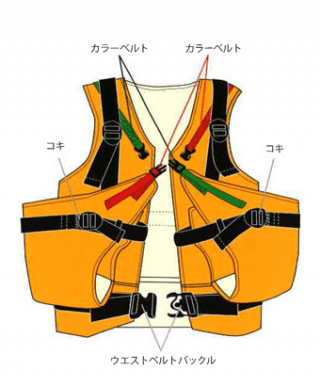 For at the time of the disaster that cannot use a stroller and an elevator, I find three infants with a back and both arms safely and am a tool for refuge that can act quickly.
[characteristic]
●Carry for the refuge that can hold three children with one nursery staff

●As as maintain it by both sides and piggyback, is easy to be able to see a foot; safely

●Anyone can be easily attached by the best type of the flame-proof processing cloth

●With storage bag that I can take it out immediately when it is emergency, and wall hangings are made

Winning the prize for the ninth kids design examination chairperson special prize
※I do not sell this product for the public
Specifications
The age of the month

Per person: A neck sits down; and ... about 10 kg

Size

Length: About 60cm width of the body 50cm
A waist belt: Up to 119cm

Weight

About 860 g

Material

100% of polyester (as for the dress material a flame-proof artefact of the association of disaster prevention authorization)

Color

Orange

Price

30,000 yen (tax-excluded)
Set contents: The body, storage bag, product made in instruction manual, Japan
When I w
ish to
rent the sample
Please consult about a period or an area.
TEL 045-833-8221 (weekdays 09-17:00)
Materials, the material sorts it enough, but the aged deterioration is not kept off.
You depend on use frequency, but please consider about three years as service life from the purchase.
You hand it over to a third party without an instruction manual, and please do not lend me it.
The product, please stop the long-time use that is a baby carrier for the emergency refuge.
I decide a person working as a person and a helper to attach beforehand, and the confirmation of the wearing method, please practice it by all means.