LED floodlight "Solimina" for the falsework Thursday, October 1 renewal
Tough LED floodlight with IP68
Solimina (sled Mina) became brighter.
LED floodlight "Solimina" for the falsework
October 1 renewal
LED floodlight "Solimina" (a reading: sled Mina) for the falsework
Conventionally,

about 8%

became bright and became the new sale from Thursday, October 1.
Total unit sales

"the sled Mina series"

more than

5,000
A price became just brighter and came home.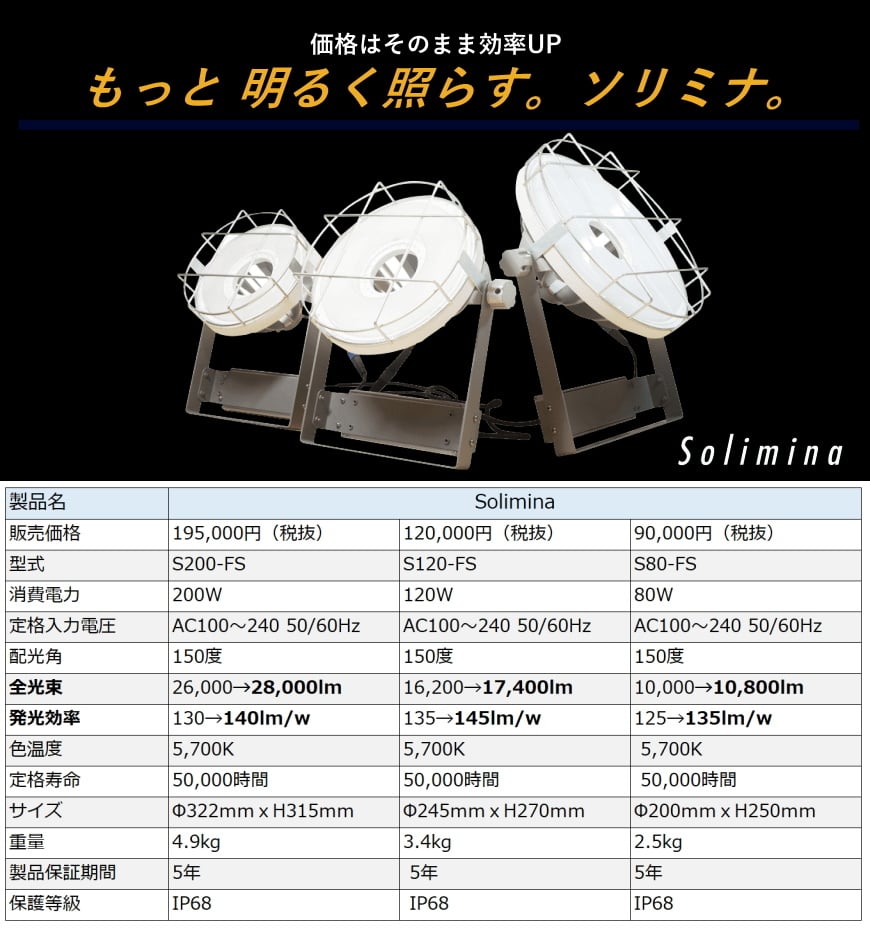 ■Background of the "Solimina" development
In the conventional "Solimina" series of the construction spot
* of light "of" mercury lamp which was common as a lighting equipment
"Merit that is bright in" wide area that is a sign "an LED light"
I developed it for realization even if I put it in this.
The light distribution angle that "the LED light" generally expresses an expanse of the light
But, there was the bad point that weight was heavy narrowly,
In the "Solimina" series to a super wide-angle lens of light distribution corner 150 degrees
The body is lightweighted by 1 light brightly widely more, too
When it is easy to use it for rutame, an emergency, I have a favorable reception and go down
masu.
■Five years guarantee of the relief
A product guarantee (the malfunction by the construction is excluded) than delivery date for 5 years is included.
I offer a replacement to the product which became targeted for a guarantee immediately and ensure the security of the construction spot.
I identify a cause immediately and submit a report afterwards.
■Waterproofing, dust proofing
I acquire IP68 of the waterproofing protection class most high level ※.
I send a light of the relief under the outdoor severe environment.
※IEC standard. I express waterproofing, the dust proofing performance of the precision instrument.